Now that Mt. Vernon Computers has become TOPTECH, we have regular office hours Monday-Saturday 11am-7pm and by appointment on Sunday. You can still call or email first to get a free estimate or to let us know you're coming, but also feel free to just stop on by with your broken tech!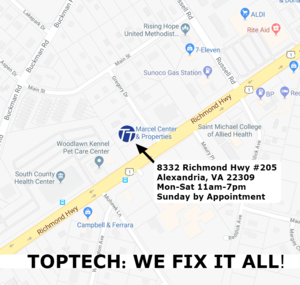 TOPTECH Computer Repair
8332 Richmond Hwy Suite #205
Alexandria, VA 22309
703.436.4756 (Office Line)
703.635.4265 (Daryl Cell)

www.toptechva.com
info@toptechva.com
Parking
Parking is available in either the front or the back of Marcel Center.  If you park in the back, give us a call to let you in. The front will always be unlocked  Always feel free to call for directions, or if you'd like someone to help carry your computer in – 703-436-476.
Daryl's mobile number is still 703.635.4265 – call or text anytime.